Regular pool cleaning is a full-time job. It requires a lot of time and effort. However, when you are working with the right tools and equipment, it becomes much easier to manage.
We at White's Pools are committed to providing you with some of the best pool supplies so that you can properly maintain and enjoy your swimming pool for years to come. Our wide selection of supplies and equipment make us a great choice for finding anything you may require for your pool's upkeep including many pool services!
At White's Pools, we provide everything you need for your pool care routine. We have high-quality chemicals, cleaners, vacuums, replacement components, and brushes that will help you keep your pool clean and sanitary.
Many of our staff boast over a decade of experience in the pool industry so we know exactly what products and tools your pool may need. Don't hesitate to ask any of our wonderful crew members for advice. We are happy to help in any way we can.
Many pool owners understand the level of responsibility it takes to maintain a crystal-clear and breathtaking pool. Our goal is to alleviate the responsibility and make pool care a more enjoyable and satisfying experience.
Pool Supplies Available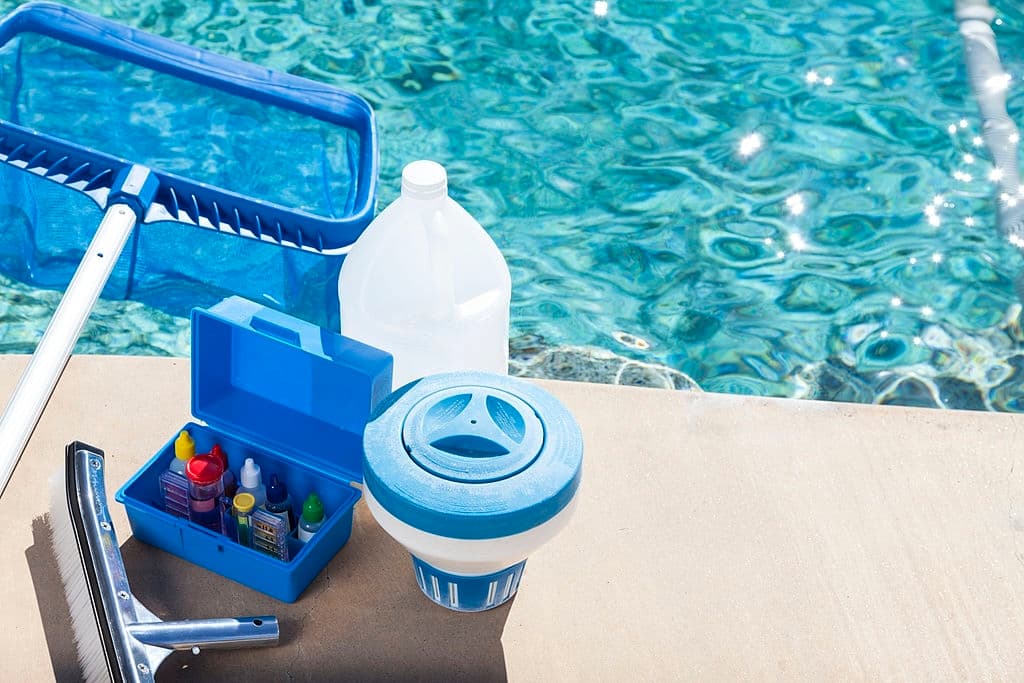 The pool supplies we have to offer are not just limited to chemicals and cleaners, they include vacuums, replacement circulation components, brushes, filter cartridges, pumps, and other tools and equipment.
Our large selection of pool supplies is exactly what you need to take care of your pool. Whether you have a residential pool or a commercial pool to take care of. We carry all kinds of chemicals, tools, equipment, and components so you can take proper care of your beloved swimming pool.
Our team understands that there are many different choices to consider when looking for the best products for your pool which is why our experts are here to help you choose the best in quality for your price range.
In addition, we know there are many different configurations a pool may have in terms of circulation and method of cleaning so we make sure to help you choose the best items and products for your current pool setup. Our educated pool technicians will provide insightful advice for pool care whether it be an in-ground pool or above ground pool. Leave it to us to point you in the right direction.
Contact Us Today If You Need Anything For Your Pool
Keeping your pool clean of algae and excess germs is essential for the health of you and your family so our team makes it easy by offering affordable prices on all kinds of pool supplies including pool pumps, chemicals, and more. We are committed to the pool industry and helping homeowners and business owners achieve crystal-clear pools.
Our experts are here to help and are dedicated to helping you achieve a well-maintained and clean pool all year round. Please feel free to get in contact with our sharp pool professionals to learn more about different products and which are best for your pool. We are eager to become a valuable asset in your pool maintenance endeavors. When you seek a team of reliable pool professionals with a large stock of incredible pool supplies, White's Pools is your go-to pool company.
1001 Karlee Blvd,
Loganville, GA. 30052
Telephone: (770) 466-2376