How to Create an Outdoor Living Space?
Are you considering making maximum use of your backyard?
Do you have dreams of creating an outdoor living oasis for you and your family?
If yes, it's a great idea to have.
Someone as fortunate as you who has a porch, terrace, or backyard space should indeed make use of this valuable real estate. Your outdoor living space will give you additional relaxing, entertaining, and even cooking space while increasing your property value.
However, you can't just randomly plop your favorite settee and outdoor table in the backyard, proclaiming it's your 'outdoor space.' There are multiple factors to consider while designing your dream outdoor living space.
You need to consider the amount of available space, your climate, and of course, your budget. And of course, there is the design, theme, and layout to consider too. You will be amazed at the number of options you have for transforming your backyard.
Here are some unique design ideas to help you create your outdoor dream space.
Creating a Beautiful Outdoor Living Space
Your outdoor living space is an absolute place of relaxation, with shrubs, scented flowers, trees, water features, and outdoor accessories within arm's reach. However, it's only the proper planning and thoughts that help create a beautiful outdoor living space.
The most important points to consider about your outdoor living space are:
Location: if it's convenient to make quick trips to the kitchen or bathroom.
Size**:** If it will take up the entire yard, or if there will be space for other activities like children's play equipment or a grill.
Blending with the indoors: If it will follow the same theme as your home. For example, a modern outdoor living space won't blend well with a contemporary house. Instead, it's better to continue using the same materials and architecture in the outdoor space.
Goals: Designing your outside space based on its functionality, like if you will be using it as a refuge, for relaxation, entertainment, or just your private space.
Budget: Like any renovation project, your budget is a major contender in the decision process. You need to decide how much you can afford to spend and choose the accessories, materials, and furniture that fit your budget.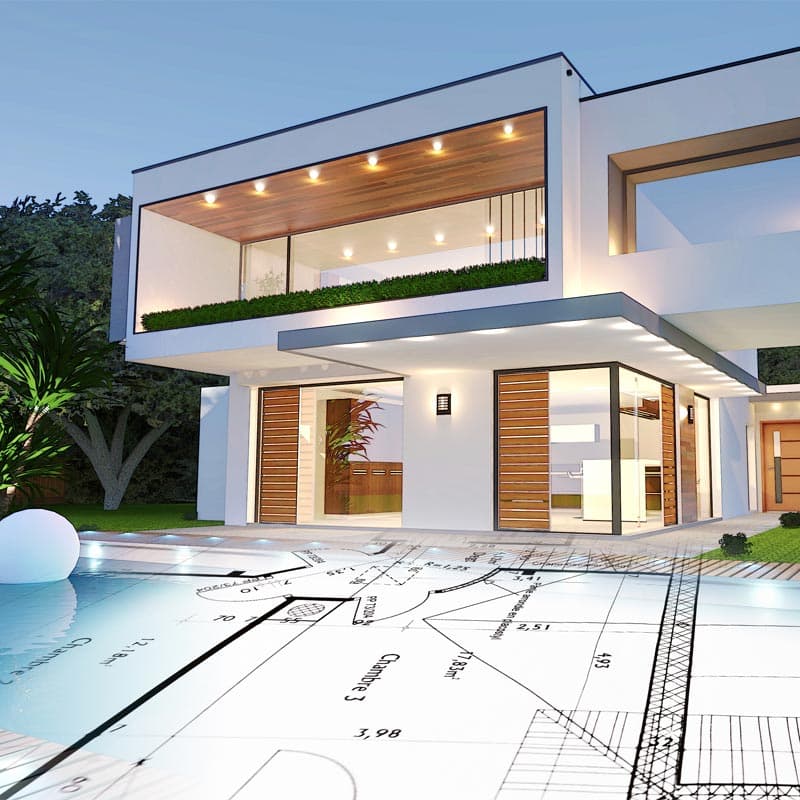 Starting With The Design And Location
Now that you know the essential points for creating your outdoor living space, it's time to decide on its general design. As mentioned earlier, the most crucial point to remember is to design the outdoor space to extend your interiors. You don't want to feel like you've walked into someone else's backyard when you walk into your outdoor living space!
Movement
While considering the layout, consider how people will move around the space. Imagine traffic patterns so that you can leave pathways for movement.
Space orientation
Consider the space's orientation based on your home, sun, and other natural elements. Know where the sun and daylight fall on different garden parts throughout the day. And have an umbrella for shade from the late-afternoon summer sun or wind buffers like hedges for windy areas.
View
If you have a pool or a beautiful view, you may want to orient the seating space accordingly. If there's no view, create a focal point like a fire pit, flower garden, or outdoor kitchen and orient the layout accordingly.
Heat and light
Adding heat and light sources will let you use your outdoor space later into the night and year too. However, check with your local building codes and bylaws before adding a fire pit or gas-powered fire table. And have a fire extinguisher nearby all the time.
Outdoor furniture
When you've planned your space, you can decide on the right outdoor furniture and accessories to add to it. Some suggestions are outdoor projectors, a swing, water features, or a water fountain.
Outdoor plants
Adding some plants to your patio or deck creates a transition zone from the indoors to the outdoors. Besides, it's not only visually appealing but also offers extra shade.
Overhead protection
If there's no roof, you need some overhead protection like a tree, trellis, tall planters, or even a pergola. In addition to security, it creates an impression of a ceiling for intimacy and sun protection.
Outdoor Furniture Considerations
With outdoor furniture subjected to harsh weather conditions, it's worth paying a little extra for quality products made of:
Metal
Metal furniture comes in various shapes, sizes, and types. Aluminum is lightweight, long-lasting, easy to maintain, doesn't rust, and is available in many styles. Wrought iron furniture is heavy and a better option for windy outdoor spaces. Steel may be expensive but is lighter, resists elements better than iron, and creates a modern and sophisticated look.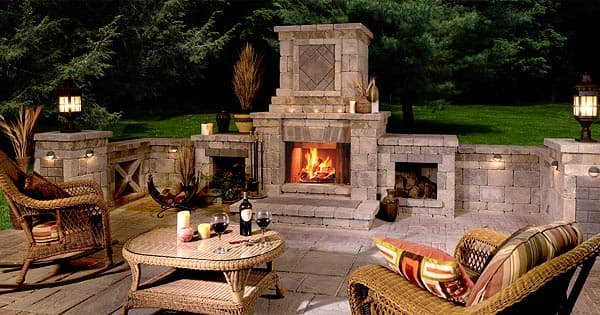 Wicker
Wicker furniture is a popular furniture option, and it's lightweight, waterproof, and comes in various designs and styles.
Plastic
Plastic furniture is durable, rigid, and lightweight and, while inexpensive, also often looks that way.
Wood
Different types of wood furniture like redwood, teak, and cedar are suited for outdoor use. They look great, come in various designs, are lightweight, and have moisture-resistant resins. However, they aren't cheap and require some upkeep like occasional sanding and refinishing.
Whichever outdoor furniture you select, decide how much furniture you require based on the maximum number of people you entertain.
Other valuable accessories that complement your furniture are:
Cushions
Use outdoor cushions with outdoor fabrics, like reticulated foam that is UV-resistant and dry quickly. Their covers come in various colors and styles to match your decor and color scheme.
Rugs
Outdoor rugs help create different zones in large outdoor spaces, like sitting and cooking areas.
Fan
Fans make your outdoor living space more comfortable and combat the summer heat and pesky bugs.
Umb rellas
Umbrellas protect your skin and provide shade to ensure you enjoy your outdoor time. They also make incredible decorations!
Lighting
The proper lighting helps boost the nighttime ambiance.
Your available lighting options are:
Portable LED-based candles and lanterns.
Candle chandeliers from tree branches
Lanterns with candles
Low-voltage landscape lighting.
Decorative pendant lamps.
Plug-in string lights.
Outdoor Kitchen Options
Transforming your backyard or patio into an outdoor kitchen lets, you entertain family and friends while cooking outdoors surrounded by nature. The experience is entirely different from cooking indoors as the outdoors adds a refreshing and festive air to the ambiance.
However, today's outdoor kitchens comprise much more than a barbecue and soda cooler. They may have a central grill and usually extend your home's living space, typically have the same conveniences available inside, and don't need much space.
All it requires is to be functional for cooking, relaxing, and entertaining. Here are some tips to consider for the perfect outdoor kitchen.
The right location
It's more convenient to situate the outdoor kitchen as close to your indoor kitchen as possible. It reduces the hassle of carrying food, ingredients, and equipment between the two. The kitchen should also have access to electricity, gas, and plumbing if you have a sink. And as you don't have much control over sunlight and wind, it's worth having additional protection for windy and sunny areas.
Layout
Start by deciding where you will place the most prominent items like a grill, pizza oven, countertops, kitchen islands, and smaller ones. Choose a kitchen table that provides enough room around it for sitting down.
While lighting is essential to create the right ambiance, you also need bright lights in the kitchen for safety reasons. And if you will have friends over, think how you will be entertaining them, and then furnish it accordingly. You could perhaps have a lounge area, bar, and television in the kitchen!
While seating should be flexible and easily moved around, installing speakers help add to the ambiance. Last but not least, remember that all outdoor kitchen accessories and equipment materials should be durable, heat-resistant, weatherproof, and easy to clean.
Choosing Outdoor Plants
There is no better way to spruce up your outdoor living space than with outdoor plants. Outdoor plants offer a cost-effective improvement to your space, adds life to the space, and flourish with time.
Examples of ideal outdoor plants are cactus, lavender, begonia, rose, chrysanthemum, succulents, palms, hydrangea, croton, aloe Vera, elephant ear, and herbs like Brahmi and cumin.
The right plant combination can make anyone's head turn and even increase your property value. Besides, spending time on the patio is more relaxing when surrounded by plants. And with many plants attracting pollinators, nature-lovers will enjoy watching butterflies, hummingbirds, and bees flitting around.
Besides, the right plants and placement create a seamless connection between your indoors and outdoors. You could perhaps have large-leafed house plants overlooking your outdoor space by the window. And create a connection with garden plants in complementing pots placed just outside.
Alternatively, you can use plant stands to link your outdoor space to your living room. And use more decorative pots and planters on your outside ground and tables to add interest at different levels.
Observe the sunlight on your patio as plants needing shade can't handle the heat, and plants needing sunlight need the sun. Don't forget to check with your USDA Hardiness zone to determine if your chosen shrubs and perennials survive winter in your region.
And if you are planning to move a houseplant to full sun, first acclimate it to the full sun. You do this by placing it in the shade for a few weeks to help the plant build its epidermal level to avoid sunburn. Failure to do so will only result in a sunburnt or dead plant.
Contact Us Today For A Free Consultation
So if you are the lucky owner of some outdoor space like a porch, terrace, or backyard, it's time you made good use of this space by converting it into your dream outdoor living oasis.
It will be the perfect spot to spend quality family time, relax, entertain and, of course, increase your property value. However, you can't just prop up a few accessories to make this oasis.
You, however, may require proper planning and advice to plan the layout and furnish your outdoor kitchen in the best way and well within your budget.
This is where we can help through our free consultation.
Our architect and experts will look at your property and develop some stunning design ideas to help make your dream a reality.
Design Choices
The standard swimming pool designs are pre-formed shapes like circles, ovals, kidney, and rectangles. While you cannot customize above-ground pools, you can customize concrete and fiberglass inground pools as per your specific design.
However, some other factors to consider while constructing your customized swimming pool are: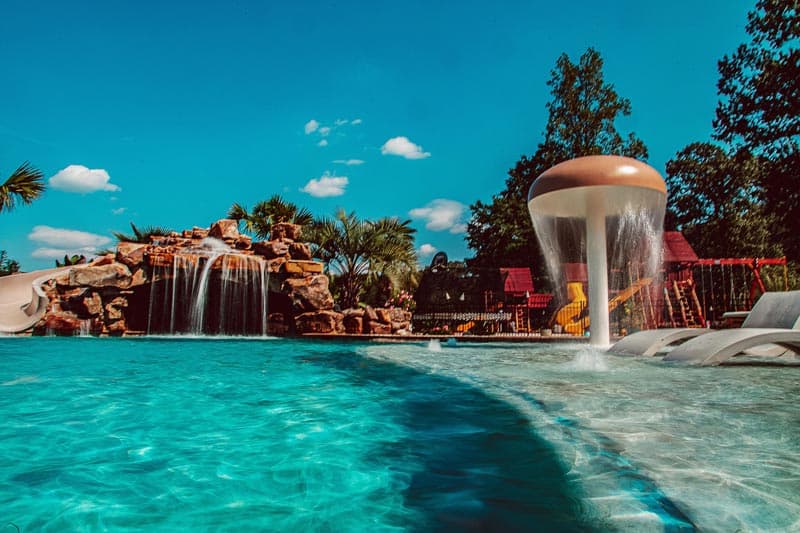 The shape and size of available space
With each property different, you need to look at it and reflect which design suits it the best. Compact pools are a better choice for smaller backyards as they give the experience of a full-fledge fiberglass pool.
If you have slopes in your background, you could consider infinity pools that let you enjoy the surrounding views.
Placement
The proper placement of your customized swimming pool enhances its attractiveness and functionality. Besides, the pool position also influences your property value.
While the property size and shapes largely determine your pool spot, you need to place the pool somewhere that inspires you to go for a swim.
Your lifestyle
Your lifestyle also plays a vital role in determining your pool design. You have to consider how you will be using the pool or surrounding area.
For example, if you have to monitor children, you need a pool that lets you watch them from all angles. If you plan to use your pool more for entertainment, you may have to invest more in suitable tiles and good poolside furniture.
And if you want to just relax in the pool, you may wish to see more nature around through plants or waterfalls.
Choosing The Right Pool Size
Your new pool size significantly impacts your pool construction costs.
Smaller pools are generally cheaper than larger ones. However, construction costs increase once you add amenities like custom lighting and massaging features.
Backyard size
Your backyard size also helps you decide on the best pool size. Decide how much space you want for your swimming pool and if you want to preserve some space for other activities like a BBQ pit.
Additional labor costs
You have additional costs to bear with backyards having an unusual shape, trees, or slopes. The builder may have to level sloping spaces before the pool construction. And if it's an unusual shape, they have to figure out how they can get their machinery into your backyard. This additional labor affects your pool construction budget and timeline.
Pool purpose
Not many realize that they don't construct a pool because they want one. Many a time, there's a different initial reason to want one, and reviewing the reasons helps you determine its best size.
Pools for recreational purposes should have a safe shallow end for children and a deep end for experienced swimmers.
To avoid crowding, you need a larger pool of about 18' x 36' for larger families and groups. A 16' x 32' pool is enough for smaller crowds to relax and swim, while a 14' x 25' pool is enough for relaxing and chilling.
Pools for regular exercise should be rectangular and at least 30' in length. Competitive and athletic swimmers need pools deeper than their height and about 40' in length to practice their complete strokes.
Budget
Last but not least, your budget plays a role in determining the pool size. Don't forget that it's not just the pool construction expenses to bear. There are other costs to consider like general maintenance costs and fencing, covers, chemicals, etc.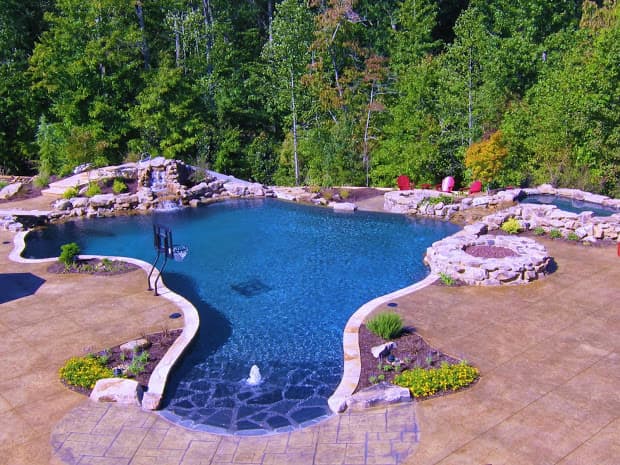 Decking And Landscaping Around The Pool
Your pool decking and landscaping also contribute to pool construction rates. While not necessary, you may need some privacy or an improved pool landscape. Whatever the reason, here are some pool landscaping options to consider.
Fencing
Installing a fence around your backyard gives you your privacy. You could also build terraced landscaped retaining walls and colorful plant beds for something aesthetically pleasing.
Nature
Trees strategically planted around your pool make it look like an integral part of your backyard. However, as most shed leaves and flowers litter the pool and clog cleaning equipment, look for trees that don't shed during the swimming season.
Also, be careful of the tree size. Trees with expanding roots can damage your pool's plumbing or structure.
Differently colored and textured plants like hydrangeas, hibiscus, and bird of paradise add vibrancy to the pool area. At the same time, creeping plants like vines add greenery without drawing much focus away from other plants. You can also turn your pool into a spa-like oasis by planting fragrant herbs like jasmine, sage, or lavender.
Hardscapes
Hardscapes like gazebos, rustic stone pathways, and a pool deck or patio also improve your pool landscape. You can center your pool landscaping around a sculpture or water feature or surround the pool with boulders and river rocks.
Lighting
Lighting is essential if you plan on using your pool at night. Tiny solar-powered lights around the pool's perimeter are less noticeable throughout the day.
Tiki torches are ideal if you have tropical plants, while a string of lights on overhanging trees or across the patio gives a soft, romantic look.
Pool decks
Many people have wood decking around their above-ground pool to easily walk around the pool. These decks make your above-ground pool look more settled and part of the landscape like an inground pool.
Its costs, however depending on your deck layout and materials used. Additional features like an inground fire pit and a covered patio enhance the deck's looks but are additional costs.
Maintenance Costs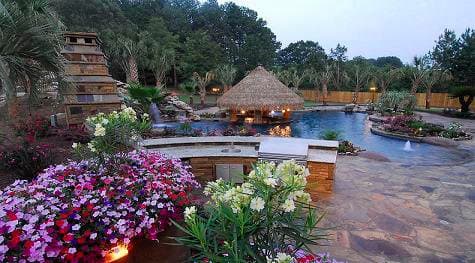 Swimming pools too, have their share of maintenance. So you have to consider these recurring costs while figuring your pool construction costs.
You will have to spend about $2500 to $500 annually for additional utility use, maintenance, and repair costs. The maintenance costs depend on the pool materials.
Concrete pools last 50 years but need maximum maintenance, as concrete cracks require resurfacing every 10-15 years. Vinyl pools need a liner replacement every decade and $1350 upwards in care, while fiberglass pools last 25 years and have an annual $350 maintenance cost.
The other ongoing costs for owning a pool include:
An average monthly pool service cost and an annual pool opening and closing cost.
With the pool water evaporating at 2" per week, you must pay monthly for water refilling.
The annual electricity costs for the pool filter and pump varies, depending on your location.
As in-ground swimming pools increase your home value, it also leads to an increase in property taxes.
The increased risk of someone getting hurt on your property increases your homeowner's insurance costs.
The saltwater cell costs about $800 and needs replacement every 3-6 years. You also have to bear the costs of adding salt to the pool a few times a year.
Chlorine pools need 1-2 buckets of chlorine tablets costing $100 – $755 annually, in addition to the cost of other balancing chemicals.
Remember, keeping the pool cleaned, updated, and in good shape retains the pool value while reducing maintenance costs.
Contact Us Today For A Pool Installation Consultation
You now have an idea of the cost of pool construction and can thus start with your dream project. The thought of a DIY above-ground pool installation may creep into your mind as it looks like a cheaper option.
However, a pool builder is always a better choice for your pool construction project.
They have the necessary expertise to provide a hassle-free pool installation, making the increased rates well worth it. Besides, professionally installed pools come with a pool warranty, which ensures you won't have any pool problems for some time.
It is also essential that you work with a company that can build your dream pool within your budget.
This is where we at WhitesPools can help.
We can also help with all the decisions and options about building your custom pool and backyard oasis.
We help make decisions like choosing between the size and right type of pool for your property. We can also help you decide what pool add-ons you need now and which you can add later.