How To Finance A Pool With No Equity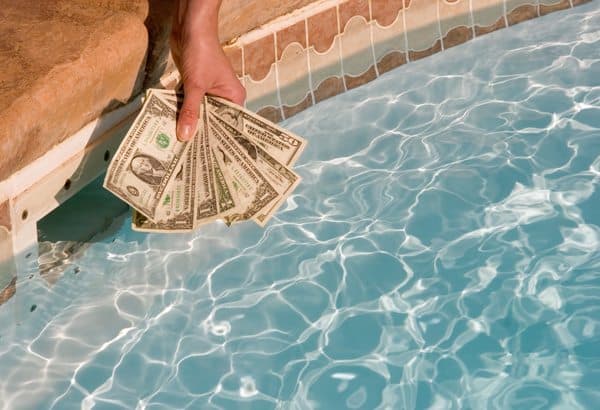 Many homeowners see swimming pools as an investment and rightly so. Swimming pools can range from incredibly cost-efficient to have quite a hefty price tag. A great way to avoid paying a lump sum of cash upfront is through our professional financing options offered here at White's Pools.
Financing a pool can be challenging but our experts will give you incredible options and give you advice on the best way to go about it. There are a number of financing options available, so you should not hesitate to ask for help.
Going forward, we'll cover a few of the financing options that can help you decide which is more suitable for your situation. Although financing a pool with no equity can seem intimidating or challenging, it can provide some immediate financial relief. In addition, the experts at White's Pools are here to help as well as answer any questions you may have.
Pool Financing Options
The first step of pool financing is to assess what you can afford. You may be able to get a loan or line of credit with a higher interest rate and then use the funds for an equity-free pool. You can also take out an investment loan or apply for the federal government's home equity conversion program, which will allow you to borrow funds in exchange for equity in your home.
In this section, we'll go over some of the most commonly used pool financing options to give you an idea of what is possible so that you can pay off your pool over a period of time rather than a single payment. Although our experts can offer you valuable advice, we still encourage you to consult with a financial advisor.
Personal Loans
Taking out a personal loan from a bank or other financial institute is one of the most common ways of financing a new swimming pool. Personal loans can have a variety of interest rates depending on the amount you're borrowing, the amount paid up front, and your loan payment history. These pool financing interest rates also vary from state to state.
This kind of loan is ideal if you'd like to avoid sacrificing your home equity. Consult with your bank or credit union about a "pool loan" and once you're approved for the said loan you'll quickly receive funds within a few days to a week.
One of the downsides to taking out a personal loan is that they typically contain much higher interest rates than other forms of financing however, a bank cannot foreclose your home if you default on payments.
Federal Loan Programs
Although this kind of loan is not one of the most popular loans there is some federal financial aid for home improvements and modifications including local or county government aid. However, these kinds of loans are not typically used for swimming pool installations. Be sure to give our team a call today to learn more about federal loan programs and how a payment plan through federal loan programs can fund our swimming pool building service on your property. We look forward to your successful financial future with your brand new swimming pool!
Lines Of Credit
Using lines of credit from financial institutions is also acceptable when financing swimming pool construction services. Our support team will help go over financial standings in order to assist in guiding you to the right form of financing option. The addition of a swimming pool to your property is an investment in its own. Average costs for swimming pools vary by state but keeping your pool properly cleaned is essential for healthy use. Using lines of credit not only for a payment plan on the construction of your pool but for products and tools may be necessary and interest rates vary due to your credit condition. Don't hesitate to contact our team today for more information about financing your pool construction through lines of credit. We are happy to provide valuable and insightful advice where we can.
Choosing The Best Option For You
Finding the right financing route for your situation can be difficult as there are several ways of obtaining the funds you need. Our friendly support staff here at White's Pools have extensive knowledge of the subject matter and will help guide you to find the best option for your current standing. Many new pool owners decide to go this route of financing if they are just shy of the amount of money needed upfront.
We understand not wanting to give up your home equity for additional funds so we make sure that if that is not an option in your book that we locate different avenues of financial planning to get your pool paid off without losing equity.
There are many factors to consider when looking for a loan. Some are more important than others, but they all play a role in the decision-making process. In this scenario, we'll try to avoid a home equity loan and steer towards a financial loan. Several internal strategies should be made when deciding on your loan including how quickly you can pay it off, how low of an interest rate will you need, the amount of principal, and so on.
Whichever option you ultimately decide to pick, our services are as high-grade and professional as always.
Contact Us Today For A Swimming Pool Consultation
White's Pools is here for you, we work with your best interest in mind to make sure you are financially comfortable with your new wonderful investment. We know that you'll find great pleasure and relaxation as well as an increase in property value when you have our team build a new pool.
If you have any further questions about financial options when it comes to financing a pool or our service capabilities, feel free to reach out today by giving us a phone call or sending us an email. We appreciate your time and look forward to providing you with valuable information and incredible services.
1001 Karlee Blvd,
Loganville, GA. 30052
Telephone: (770) 466 2376