Gwinnett County is an ever-developing area, keeping the spirit of the cities it encloses fluid like water. Snellville has gone through a reinventive transformation after the 2010 Census, which resulted in more property space and opportunities.
Many of its citizens have taken a more personal reinvention upon themselves, mirrored perfectly in their living arrangements. The properties became increasingly desirable to live in or place on the real estate market. One of the first elements that draws attention to a home in a warm city like Snellville, is a pool.
A pool can tell a lot about the person who owns its surrounding property. The maintenance of a pool is a reflection of the entire property's maintenance. The design of a pool lets bypassers know that the rest of property is just as interesting and well-thoughout. Most importantly, a pool speaks the style of the property owner and displays it for all to see. Whether it's something the people on your block appreciate, or if it's the sight that you wake up to every morning…you need a team of experts to design your dream pool. Meet White's Pools.
About Our Pool Services
James White, the founder and current CEO of White's Pools operates as his own boss and supervisor of his experienced family-owned operation. With 35 years of experience behind him Mr. White managed to put together a pool-building dream team, knowing exactly what traits to look for in his colleagues, in order to keep the business thriving.
At White's Pools, we believe that anyone you want to let into your house should deserve it. If you are planning on building a pool from ground zero, the cooperation between you and the company you work with should be transparent, constant, and healthy. Not only is our staff extremely friendly and helpful, but our services have left our past customers extremely satisfied, to the point of gaining their trust for future projects, and becoming part of their property's family.
The family spirit is what makes a house into a home, and we will treat your pool building project as if we were working on our own construction. Just like in any family, a budget is discussed and keeping it as low as possible is a major factor. We have the necessary expertise to focus your expenses on exactly what is needed to turn your dream pool into reality. We just want you to be happy with your pool, and the only way we can achieve this is if you are happy with us. Call or text us at (770) 466-2376.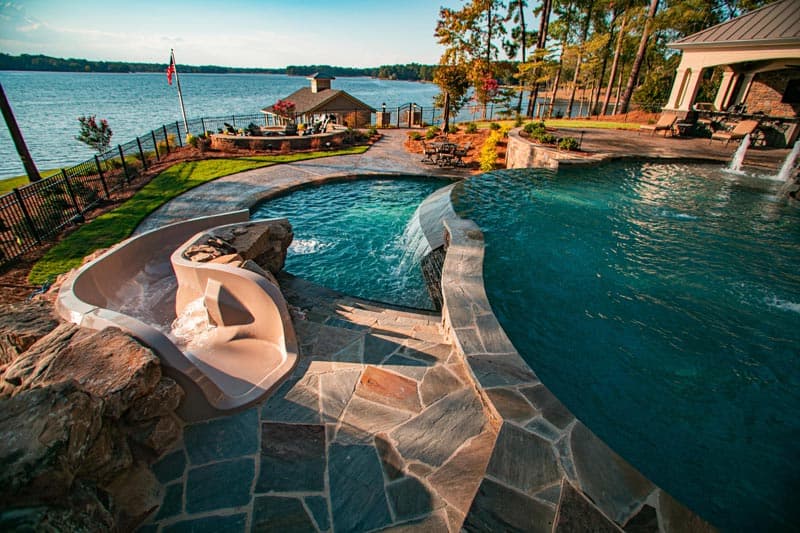 Contact Us Today For A Free Pool Design Consultation
Whether you are contemplating an indoor pool, a fenced pool, a swimming pool of any size that your outdoor area can support, we will gladly assist you in finding the most optimal solutions. Get in touch with us and we will schedule a free pool design consultation, to give you a precise idea of what you should expect in regards to time, money, and effort into building a pool from start to finish.
If you're in Snellville, you can get in touch with us by calling or texting us on (770) 466-2376, or simply filling out the contact form on our website. We will get back to you with the necessary details to get the ball rolling and build you the wonderful pool you deserve and have worked so hard for!