How a Reliable Athens Swimming Pool Service and Repair Company Can Save You a Ton of Time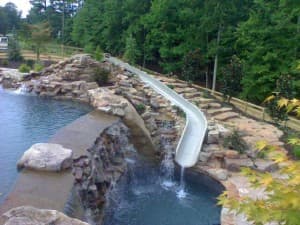 The cold months are finally coming to an end, and with summer right around the corner, a nice swim is sounding better than ever. So grab your swimsuit and get ready for a dip as we tell you about a company that will have you spending all day by your new swimming pool.
At White's Pools in Athens, Georgia we are proud to be a reliable swimming pool service and repair company that you can depend on to settle your deep-diving, summer cravings and save you money and time this upcoming season.
We are most known for our award-winning pools and spas as a third-generation swimming pool construction and service business specializing in visualization and design. If you've ever wanted to get your hands on to some exterior designing, our experts at White's Pools can make all your backyard dreams into a reality without you having to do the dirty work.
Experts at Design Will Save You Time
We each have our own individual tastes and styles. White's Pools is setting out to make your personal design and character come to life within the landscaping of your home. We offer a variety of options to choose from. From color swatches and tiles to custom concretes, we provide the most unique options for your pool wants and requirements. Using the latest equipment and technology to design swimming pools and spas for homes, clubs, and hotels alike, our professional design services continue to be a proven time saver.
With a team of passionate in-house designers, crafting your own pool and/or spa has never been easier, or more time friendly.
With so much to consider, don't waste time painstakingly planning your pool. Using an Athens pool company that's dependable is the perfect solution for getting the right pool for you and saving your time and money.
Versatile Pool Builders Save Time and Offer Peace of Mind
Finding pool builders in Athens can seem like a hefty chore. With a cluttered market, it can be a huge headache to find trustworthy and quality companies to invest your money and time. This is where White's Pools is here to help.
We keep you informed throughout the whole construction process and we are known for building lasting relationships with customers, along with our incredible patios and pools.
We also specialize in building indoor, infinity, lagoons, natural, and rock pools. Offering the most modern and creative designing services for pools in Athens, GA, we can work in any circumstance to get you the pool of your dreams. Whatever your schedule, we will work within your timeframe to make it happen, ultimately saving you time!
We are here to ease the process of construction so that you can get on with your busy schedule. We manage the excavation, inspections, and start-up of the pool. Even when the water has been added, we are happy to help recommend chemicals and equipment that will keep your pool in tip-top shape.
Local Repairs Help Your Local Economy and Save Time
Maybe you already have a pool, but you need find a repair service for your favorite summer activity? If you find yourself needing a repair company for your pool, using a local option is going to save you time because of their close proximity.
Relying on a national company or one from another city to fulfill your pool repair in Athens will not only cause you delays because of the distance, but it also prohibits your money from being funneled back into your local economy. By relying on us for your pool repairs, you can be certain you're investing into your community and saving yourself the headaches of delayed consultations and repairs to your site.
Get Started Today!
We have the necessary expertise to save you valuable time when it comes to your pool. Whether you need our services for your recreational activities or are seeking commercial repairs, we've got all the solutions for your time management.
Since having a pool is beneficial for both your physical and mental health, there really has never been a better reason to enjoy a well-needed break in your own space. So, kick off your shoes, get some sun, and don't forget the sunscreen because White's Pools is here for you every step along the way to make the process from production to pool a breeze.
Contact us to take the first step towards your dream pool today!