What Is The Cost Of Pool Construction?
There's nothing better than relaxing in the comfort of the clear, cool water of your swimming pool. A swimming pool can be your home's focal point, your source of relaxation and exercise, and of course, also add value to your property.
However, not everyone can have a swimming pool.
It's because so many factors go into deciding the feasibility of a pool in your home. The most important concern is having enough space to house a swimming pool.
In addition to this, many also wonder about the cost of constructing a pool.
Unfortunately, there is no fixed answer to this.
You can construct a small, above-ground pool for as little as $1,000 or end up spending more than $150,000 for a custom in-ground pool with state-of-the-art accessories and equipment.
It depends on your budget and the other cost determinant factors like design, swimming pool type, fencing, and annual maintenance costs.
Knowing all these factors and the associated costs will help you properly plan for the dream swimming pool you have always wanted in your house.
How Much Does It Cost To Build a Pool?
These are the leading pool cost influencing factors:
Plunge or cocktail pools cost between $14,500 to $25,000. They are small, not meant for diving, and are used more for entertainment and relaxation.
An average lap pool costs about $20,000 to $70,000, while endless pools have a starting price of $24,000. Endless pools are cheaper to maintain as they require less water.
Inground or above-ground pool
It costs about $2,800 to build an above-ground pool, and you have to pay for leveling and to install plumbing and electrical ports. It costs anywhere between $46.500 to $66.500 for an inground pool, depending on size, pool type, saltwater or chlorine, and material.
Features, decking, and accessories
The sky's the limit when it comes to pool features and accessories, so choose based on your needs and budget.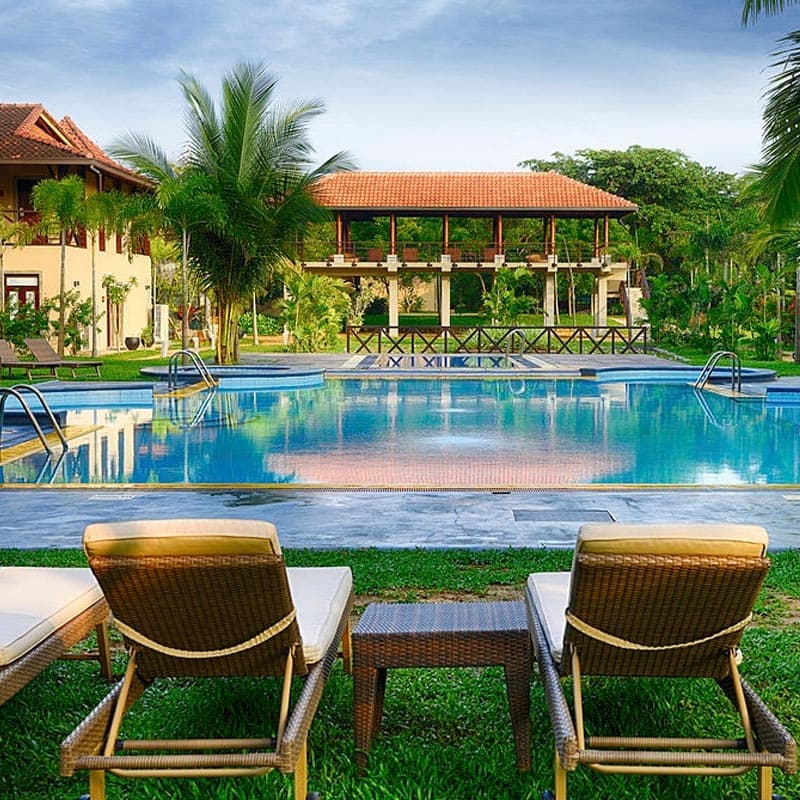 Pool size
Larger pools will need more time and money to install than smaller-sized pools.
Design
Standard design pools are always cheaper than custom pools.
Chlorine or saltwater
New saltwater pool installation costs between $29,000 to $57,000. It costs $600 to $2200 to convert a chlorine pool to a saltwater pool, including a saltwater chlorination system.
Time of year
Most people decide to build a pool in spring when prices are the highest with the increased demand. It's cheaper, and better to install your pool in slower times, like during fall and winter.
Location
Your home location affects your pool costs because some materials are more expensive in some states. Besides, areas with fewer pool contractors charge more for pool construction.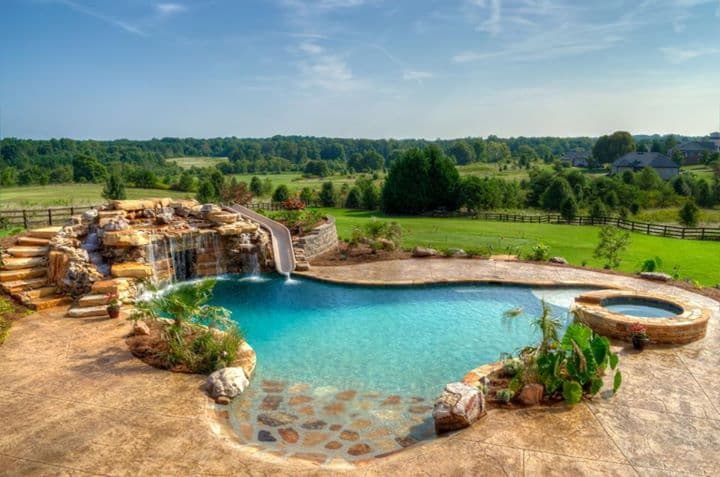 Inground or Above Ground Pools
Deciding if you want an in-ground or above-ground pool is a question any would-be pool owner has to answer. Here are some factors to help you decide on the best option for you and your family.
Cost
Inground pools are more expensive because their excavation and digging labor costs constitute about half the price.
Installation
An above-ground pool installation is quicker and easier than an inground pool installation. Even a handy person can install an above-ground pool that comes in kits.
You can also install Inground pools via kits, but it's uncommon. The excavation work makes it more challenging, expensive, and labor-intensive.
Safety
Above-ground pools have pool walls extending above the ground, a safety feature absent in-ground pools. However, you can always add safety features to an in-ground pool to increase security.
Customization
While above-ground pools come in various styles, inground swimming pools offer more variety. You can include features like tanning ledges, attached spas, and diving boards to inground pools. You, however, cannot add a diving board to shallow above-ground pools.
Appearance
Inground swimming pools are more attractive and look more natural than above-ground pools. But the proper landscaping, like an attached deck, can make your above-ground pool look nice.
Maintenance
Both pool types need the same maintenance like cleaning, filtering, and a good chemical balance. Inground pools, especially concrete and fiberglass ones, are more durable than above-ground pools. However, any renovations can get expensive.
Above ground pools, on the contrary, are quick to tear down and replace. Experts generally suggest starting with the cheaper and easier to install an above-ground pool. You get an idea of what it's like to own a pool and can always upgrade to an inground pool after a season or two!
Design Choices
The standard swimming pool designs are pre-formed shapes like circles, ovals, kidney, and rectangles. While you cannot customize above-ground pools, you can customize concrete and fiberglass inground pools as per your specific design.
However, some other factors to consider while constructing your customized swimming pool are: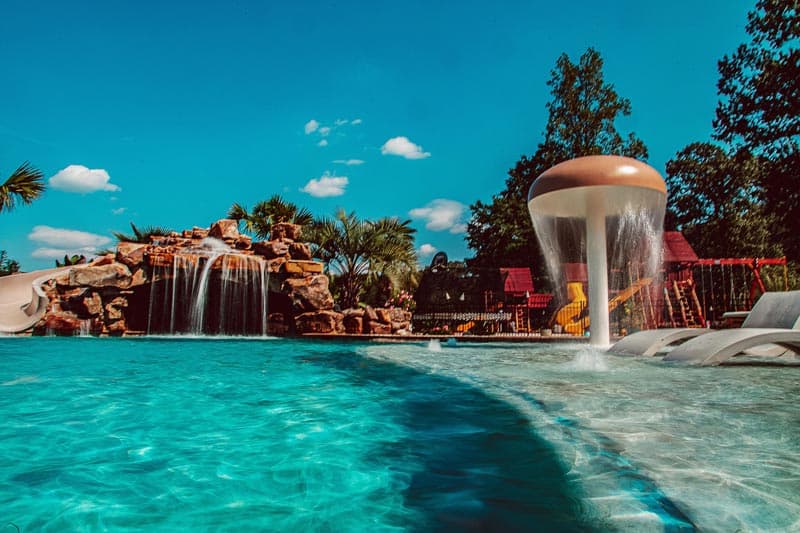 The shape and size of available space
With each property different, you need to look at it and reflect which design suits it the best. Compact pools are a better choice for smaller backyards as they give the experience of a full-fledge fiberglass pool.
If you have slopes in your background, you could consider infinity pools that let you enjoy the surrounding views.
Placement
The proper placement of your customized swimming pool enhances its attractiveness and functionality. Besides, the pool position also influences your property value.
While the property size and shapes largely determine your pool spot, you need to place the pool somewhere that inspires you to go for a swim.
Your lifestyle
Your lifestyle also plays a vital role in determining your pool design. You have to consider how you will be using the pool or surrounding area.
For example, if you have to monitor children, you need a pool that lets you watch them from all angles. If you plan to use your pool more for entertainment, you may have to invest more in suitable tiles and good poolside furniture.
And if you want to just relax in the pool, you may wish to see more nature around through plants or waterfalls.
Choosing The Right Pool Size
Your new pool size significantly impacts your pool construction costs.
Smaller pools are generally cheaper than larger ones. However, construction costs increase once you add amenities like custom lighting and massaging features.
Backyard size
Your backyard size also helps you decide on the best pool size. Decide how much space you want for your swimming pool and if you want to preserve some space for other activities like a BBQ pit.
Additional labor costs
You have additional costs to bear with backyards having an unusual shape, trees, or slopes. The builder may have to level sloping spaces before the pool construction. And if it's an unusual shape, they have to figure out how they can get their machinery into your backyard. This additional labor affects your pool construction budget and timeline.
Pool purpose
Not many realize that they don't construct a pool because they want one. Many a time, there's a different initial reason to want one, and reviewing the reasons helps you determine its best size.
Pools for recreational purposes should have a safe shallow end for children and a deep end for experienced swimmers.
To avoid crowding, you need a larger pool of about 18' x 36' for larger families and groups. A 16' x 32' pool is enough for smaller crowds to relax and swim, while a 14' x 25' pool is enough for relaxing and chilling.
Pools for regular exercise should be rectangular and at least 30' in length. Competitive and athletic swimmers need pools deeper than their height and about 40' in length to practice their complete strokes.
Budget
Last but not least, your budget plays a role in determining the pool size. Don't forget that it's not just the pool construction expenses to bear. There are other costs to consider like general maintenance costs and fencing, covers, chemicals, etc.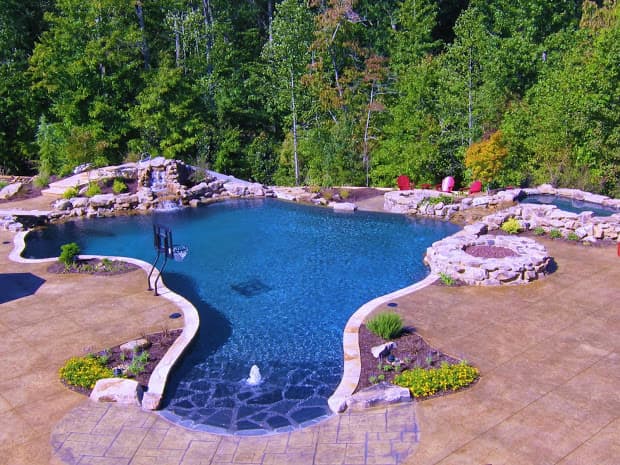 Decking And Landscaping Around The Pool
Your pool decking and landscaping also contribute to pool construction rates. While not necessary, you may need some privacy or an improved pool landscape. Whatever the reason, here are some pool landscaping options to consider.
Fencing
Installing a fence around your backyard gives you your privacy. You could also build terraced landscaped retaining walls and colorful plant beds for something aesthetically pleasing.
Nature
Trees strategically planted around your pool make it look like an integral part of your backyard. However, as most shed leaves and flowers litter the pool and clog cleaning equipment, look for trees that don't shed during the swimming season.
Also, be careful of the tree size. Trees with expanding roots can damage your pool's plumbing or structure.
Differently colored and textured plants like hydrangeas, hibiscus, and bird of paradise add vibrancy to the pool area. At the same time, creeping plants like vines add greenery without drawing much focus away from other plants. You can also turn your pool into a spa-like oasis by planting fragrant herbs like jasmine, sage, or lavender.
Hardscapes
Hardscapes like gazebos, rustic stone pathways, and a pool deck or patio also improve your pool landscape. You can center your pool landscaping around a sculpture or water feature or surround the pool with boulders and river rocks.
Lighting
Lighting is essential if you plan on using your pool at night. Tiny solar-powered lights around the pool's perimeter are less noticeable throughout the day.
Tiki torches are ideal if you have tropical plants, while a string of lights on overhanging trees or across the patio gives a soft, romantic look.
Pool decks
Many people have wood decking around their above-ground pool to easily walk around the pool. These decks make your above-ground pool look more settled and part of the landscape like an inground pool.
Its costs, however depending on your deck layout and materials used. Additional features like an inground fire pit and a covered patio enhance the deck's looks but are additional costs.
Maintenance Costs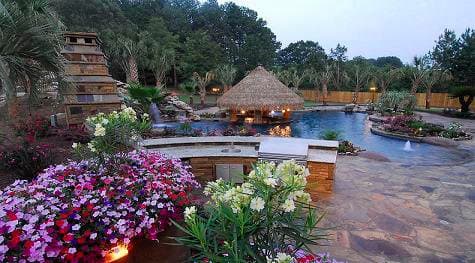 Swimming pools too, have their share of maintenance. So you have to consider these recurring costs while figuring your pool construction costs.
You will have to spend about $2500 to $500 annually for additional utility use, maintenance, and repair costs. The maintenance costs depend on the pool materials.
Concrete pools last 50 years but need maximum maintenance, as concrete cracks require resurfacing every 10-15 years. Vinyl pools need a liner replacement every decade and $1350 upwards in care, while fiberglass pools last 25 years and have an annual $350 maintenance cost.
The other ongoing costs for owning a pool include:
An average monthly pool service cost and an annual pool opening and closing cost.
With the pool water evaporating at 2" per week, you must pay monthly for water refilling.
The annual electricity costs for the pool filter and pump varies, depending on your location.
As in-ground swimming pools increase your home value, it also leads to an increase in property taxes.
The increased risk of someone getting hurt on your property increases your homeowner's insurance costs.
The saltwater cell costs about $800 and needs replacement every 3-6 years. You also have to bear the costs of adding salt to the pool a few times a year.
Chlorine pools need 1-2 buckets of chlorine tablets costing $100 – $755 annually, in addition to the cost of other balancing chemicals.
Remember, keeping the pool cleaned, updated, and in good shape retains the pool value while reducing maintenance costs.
Contact Us Today For A Pool Installation Consultation
You now have an idea of the cost of pool construction and can thus start with your dream project. The thought of a DIY above-ground pool installation may creep into your mind as it looks like a cheaper option.
However, a pool builder is always a better choice for your pool construction project.
They have the necessary expertise to provide a hassle-free pool installation, making the increased rates well worth it. Besides, professionally installed pools come with a pool warranty, which ensures you won't have any pool problems for some time.
It is also essential that you work with a company that can build your dream pool within your budget.
This is where we at WhitesPools can help.
We can also help with all the decisions and options about building your custom pool and backyard oasis.
We help make decisions like choosing between the size and right type of pool for your property. We can also help you decide what pool add-ons you need now and which you can add later.